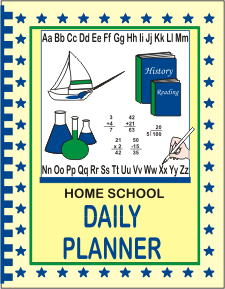 Daily Planner
CONTENTS
Devotionals for Moms
36 week lesson plan with preprinted subject boxes
Daily attendance/hours charts
Daily schedule charts
Monthly lunch/dinner menu calendars
Prayer journal
Scripture memory log
Family rules and chores charts
Curricula log
Field trip chart
Daily grades charts
How to grade instructions
Evaluation and letter-graded report cards
Transcript preparation chart and instructions for college
Note spaces and more...
#60005 DAILY PLANNER: $20.00
Sample Planner Pages
REVIEWS
Mrs. Nash has so many different curricula to offer the home school family, and this is just one more example of the quality products this company produces. This planner is very complete, in addition to the usual space for weekly assignments (which by the way, have plenty of room for writing in them!), This planner is so much more!
It has a place for prayers and goals for your student for the year, as well as many devotionals throughout the planner. There are attendance/hour charts for those who have to keep track of such things, a place for field trips, and also a page for chores and family rules. These are blank and left that way intentionally for you to write in your own family chores and rules.
The cool thing about this planner that I havenít seen in others is the daily grading chart that is available. There are instructions for using it right at the back of the book, immediately preceding the chart. You can grade daily lessons, quizzes, and tests, and once it is in the book, it is so much easier at the end of the term or semester to record and give out grades. Some of us may not need or use this feature, but it is very nice to have for those that are living in states which require grades for all subjects. There are also two styles of report cards in the planner that you may photocopy and present to your student.
The weekly schedule itself affords plenty of space for you to write down assignments, either as you do them so you know what your student has done, or beforehand so all your student has to do is look at each two page spread to know what lies ahead for the week. The calendar is set up for a 36-week year. There are plenty of spaces available to add your own individualized subjects, as well as the basic preprinted subjects.
This is a very comprehensive planner that would work well in any home school environment. It is easy-to-use and implement, not big and bulky like some Iíve seen. It would be an asset to any student!
Holly Cameron
The Old Schoolhouse Magazine
© 1990-2019 The Father's Books