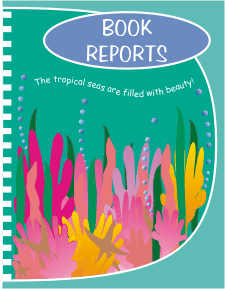 Book Reports
COURSE CONTENTS
Textbook
186 Lessons
Daily lesson plan schedules
Teacher instructions
Student instructions
Practice exercises
Answers for textbook
29 Writing worksheets
29 Book report forms
Correcting book report instructions
Editing instructions
Editing charts
Grading charts
Grading instructions
Tests
Answers for tests
All contents are spiral bound in one book.
#13030 BOOK REPORTS: $42.00
(For students in grades 4-12)
Sample Textbook Pages
REVIEWS
We are finding that many things in our Christian culture are just as pagan as the world and are choosing to find joy in celebrating exactly as the Bible commands us. More than anything, I personally wanted to thank you for the quality resources you provide, and I truly appreciate the stance that I see you are taking in your company. It is truly my pleasure to support you and buy your resources to teach my 5 children with. May you be most blessed!
Mrs. Jibben
Update on my pursuit of a writing curriculum that would work for my sweet girl. She does well with spelling, creating a decent sentence, and even writing funny little stories, but when it comes to structured/formal writing, it has been an ongoing struggle.
Going through a source list for homeschooling, I stumbled over The Father's Books. For writing, they have traditional grade level or pacesetter, which allows you to set the education pace for your child. I decided we would give Book Reports (English and Writing, Grade 5) a try.
We've been at it for about a week now. The thought process and writing process of book reports is nicely done. Straight and to the point (great for my "just the facts, ma'am" daughter), and biblically based instruction seem to be (so far) effective. The Pacesetter text provides expansion from grade 4 through grade 12. So, the early reports are more basic, and provide a confidence boost for my daughter. I like the progression of difficulty this non-grade level text is providing.
If all continues to go well, we will use their essay writing text, and their lab reports text look like a great fit for biology, chemistry, and physics.
I am hopeful these pacesetter texts will give that boost we've needed for her challenges with structured writing.
Mrs. Kerry Ott
© 1990-2019 The Father's Books