Planning the home school day is important to maintaining a well-run classroom and getting organized takes so little time with our planner. If you are new to planning, you will be amazed at how much peace this organized approach will bring to your home school day!
Pleasant Planning

Get Organized!
Accomplish Tasks
Find Peace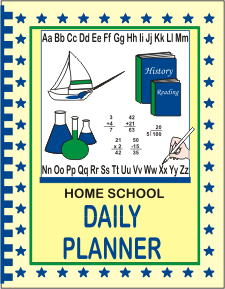 DAILY PLANNER
Say goodbye to daily stress and confusion! This Bible-based 36-week planner is designed specifically for the Christian home school setting as a resource to help each day, each week, each month, and each year run smoothly. You can keep, record, and organize all of your student's daily school work, schedules, information, prayers, and results within its contents. By entering your daily school work into the preprinted subject boxes, you can glide through each day and week. The easy check-off boxes help to keep track of what is completed so you know where to start if your student misses a day or a subject within a day.
That's not all! This planner is filled with helpful ideas, charts, journal space, record-keeping logs, report cards, calendars, and instructions for preparing a college transcript. It also includes truly touching and encouraging Bible-based devotionals written by experienced home school moms. They are sure to inspire, uplift, encourage, and renew your teaching efforts.
For detailed instructions on how to set up this Daily Planner, subscribe to The Happy Home School Magazine! Each month, we teach how to use and fill in the planner's important organization tools.
"Resurrection Resources has so many different curricula to offer the home school family, and this is just one more example of the quality products this company produces. This planner is very complete! In addition to the usual space for weekly assignments (which by the way, have plenty of room for writing in them), this planner is so much more."
Holly Cameron, The Old Schoolhouse Magazine
#60005 DAILY PLANNER: $20.00