GRADE K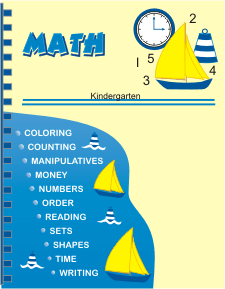 Ahoy there - math on board! Your student will sail into the exciting adventure of math with this Bible-based course! Its coloring book style has attractive artwork, easy-to-understand teacher and student instructions, and daily lesson plans that make the consumable textbook tailored to your student's beginning abilities. Your student will learn about numbers, counting, order, sets, shapes, time, money, and more!
You will be amazed to see how much your student engages with this course as it employs proven techniques to focus your student while developing a solid math foundation. Each unit is introduced with a captivating family story. The daily lessons begin with teacher directed math exercises. Then, your student completes fun pages of math learning activities with important coloring strategies that build solid math skills.
You will enjoy the Biblical values, Bible applications, and Biblical foundation. This course truly contains all you need to help your student begin developing solid math skills!
"I looked over the math text; looks like you offer a lot of information. I will share it with my members that have child(ren) this age. I am very impressed with the curriculum. Thanks again!"
Pamela Clark, Homeschool Support Group Leader
#72000 MATH K: $35.00
CONTENTS
Consumable textbook
184 Lessons
Daily lesson plan schedules
Easy teacher instructions for each lesson
Daily math preparation games or exercises

Lesson answers
Grading instructions
Manipulatives - student clock, number and number word flash cards, ordinal number flash cards, shape flash cards
Button game cards
All contents are spiral bound in one book.