GRADE 1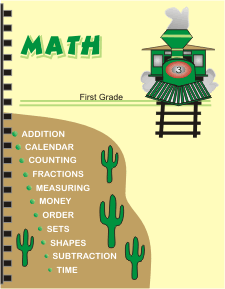 Math training on track! Your student will advance full steam ahead with this Bible-based course that contains helpful, easy-to-understand teacher and student instructions with daily lesson plans! The consumable textbook focuses your student's attention while developing a solid math foundation with its engaging coloring book style. In first grade, your student learns about addition, subtraction, fractions, measuring, time, money, the calendar, order, sets, and more!
The begining of each unit introduces an important math concept with a captivating family story. Then by following the daily lesson plan for each day, your student will complete incremental learning activities to build his/her math skills. Each daily lesson begins with teacher directed math exercises that are explained in the teacher's instructions.
This is another thoughtful course with Bible-honoring graphics, stories, values, themes, math problems, and math concepts that will advance your student's math skills!
"Your books are great! Might need you in the future, since my oldest daughter and my daughter-in-law are expecting now and plan to homeschool."
Susan, Retired Homeschool Mother
#72001 MATH 1: $35.00
CONTENTS
Consumable textbook
185 Lessons
Daily lesson plan schedules
Easy teacher instructions for each lesson
Daily math preparation games or exercises
Lesson answers

Grading instructions
Math concept strengthening drills
Manipulatives - student clock, 6-inch ruler, number and number word flash cards, ordinal number flash cards
Place value game
Button game cards
All contents are spiral bound in one book.
© 1990-2023 The Father's Books