ENGLISH AND WRITING: Grade 8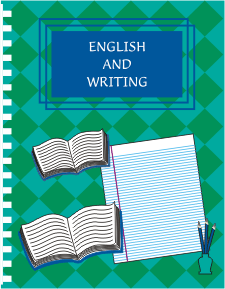 Imagine...an English course that has an effective plan and purpose!
Observe...the mastery of writing essays and reports!
Watch...grammar and editing skills improve!
Rejoice...in the sharpening of written communication skills!
This course continues Mrs. Nash's natural way to learn the English skills of writing essays and research reports. Your student will learn to master intermediate/advanced essays and research reports with truly wonderful results! Prior mastery of ENGLISH GRADE 7 or ESSAYS AND RESEARCH REPORTS, LEVEL A is strongly suggested.
"I wanted to also give you my highest praise for this course. In just the few pages that my daughter completed, when she went to take the practice GED test she scored the highest possible score on her essay. The teacher said she had never read a better essay. So thank you for a wonderful product!"
Lyn, Home School Mom of Four
This Bible-based textbook contains a hands-on approach that cleverly teaches how to prepare and write persuasive essays and formal research reports from Bible-honoring assigned topics. Each day contains skillfully prepared questions or instructions to facilitate the writing process. Interspersed writing tips, grammar instruction, and practice sections also introduce new concepts that facilitate the growth and maturation of writing skills, as well as sharpen grammar skills. For the research reports, your student will study the people, government, historical events, policies, decisions, and more that shaped individual countries. The research text for two countries is included; library research is required for the third country. Your student will also acquire SAT/ACT essay writing skills.
"This is such a natural way to learn writing!"
Darla Freeman, The Honey Tree
#93458 ENGLISH 8: $47.00
(This course = Essays and Research Reports, Level B)
COURSE CONTENTS
Textbook
185 Lessons
Daily lesson plan schedules
Easy teacher instructions
Helpful student instructions
Practice exercises
Answers for textbook

Correcting instructions
Editing instructions
Editing charts
Grading charts
Grading instructions
Tests
Answers for tests
All contents are spiral bound in one book.
© 1990-2023 The Father's Books