THE SIGNERS of the UNITED STATES CONSTITUTION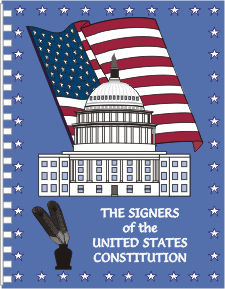 Our story style history books draw your whole family back in time so that you can participate in important conversations and meetings, and walk with the men who shaped American history. Explore history as though you were actually there!
How did the United States Constitution come to contain the most copied form of government in the world and be a document that daily shapes our lives? The story of this miracle of man's genius is one that will inspire you to honor the fifty-five men who met one auspicious, rainy May in 1750. It was only by their dedication to the rights of man and fellow citizens of an emerging nation, that this masterpiece of a new government was conceived.
Over many long months of hot, summer weather, long debates, repetitious votes, and prayer - these men worked, played, and rested together to bring forth the United States Constitution. In this book, you will meet the men and relive the meetings that formed this document.
#37020 THE SIGNERS of the UNITED STATES CONSTITUTION: $15.00
CONTENTS
Action-packed historical story
Biographies of the 55 signers
Map of the thirteen original colonies

Glossary of historical terms
The original text of the United States Constitution
© 1990-2023 The Father's Books